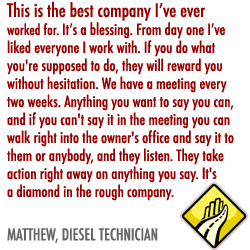 We offer our employees a variety of traditional benefits, including: life insurance, healthcare, dental, and vision insurance; a 401K plan with company match; paid holidays; and paid vacation, sick days and personal days through a flexible time off (PTO) program.
We want to take care of our employees and see them grow, so we offer paid training and education; a yearly allowance to replace boots; and a $100 savings bond for new parents. We also want team members to feel like part of the family, so we encourage employees to participate in birthday parties, holiday parties, barbecues and pot luck dinners.
We also host weekly staff meetings for admin-level employees; bi-weekly "toolbox meetings" for all employees to obtain information about training, safety, and new customers; and town hall meetings twice each year for every employee.
Employees have the benefit of working for a highly-regarded company. Some of the recognitions we've received over the years include:
2002 Small Business of the Year
2001 Finalist for the Small Business of the Year
Recognized three times by the Initiative for a Competitive Inner City as a Top 100 Fastest Growing Company
Board Member of the Greater Phoenix Chamber of Commerce
Chair of the Greater Phoenix Chamber of Commerce Small Business Leadership Council
Graduate of the APS AAAME Business Academy
Member of the Arizona Small Business Association
Member of the Better Business Bureau